6 Men's Hairstyles for Winter
When we say winter hairstyles for men, we are talking about hairstyles that don't take much effort to maintain. No one wants to worry about redoing their hair when they finally get inside from the fridged outdoors and take their beanie off. So below are six hairstyles for men that make hat hair a thing of the past.
The Men's Fringe
The men's fringe has been getting rocked for a while and remains popular. This hairstyle is where the sides are cut shorter, and the top is left long, allowing for bangs. This look is sleek and sexy and will work with a variety of hair – straight, curly, or wavy. It can also work regardless of length. All it requires is hair long enough on top for bangs. If you think you want a men's fringe, contact Therapy Hair Studios and ask for one of the following or tell us you don't know what will work best for your hair, and we will help you out.
Classic fringe: With a classic fringe, the top and the sides are almost the same lengths, so if you want an old-school, classy haircut, this may be the right choice for you.
Modern fringe: With modern fringes, the top is long, and the sides usually fade.
Textured fringe: This is one of the most popular fringe hairstyles. Your stylist blends the hair on top through texturizing techniques, and the sides and back are usually faded. This hairstyle is perfect for winter because you can throw your hand through your hair once the hat is off, and you're as good as new.
Basic Slick Back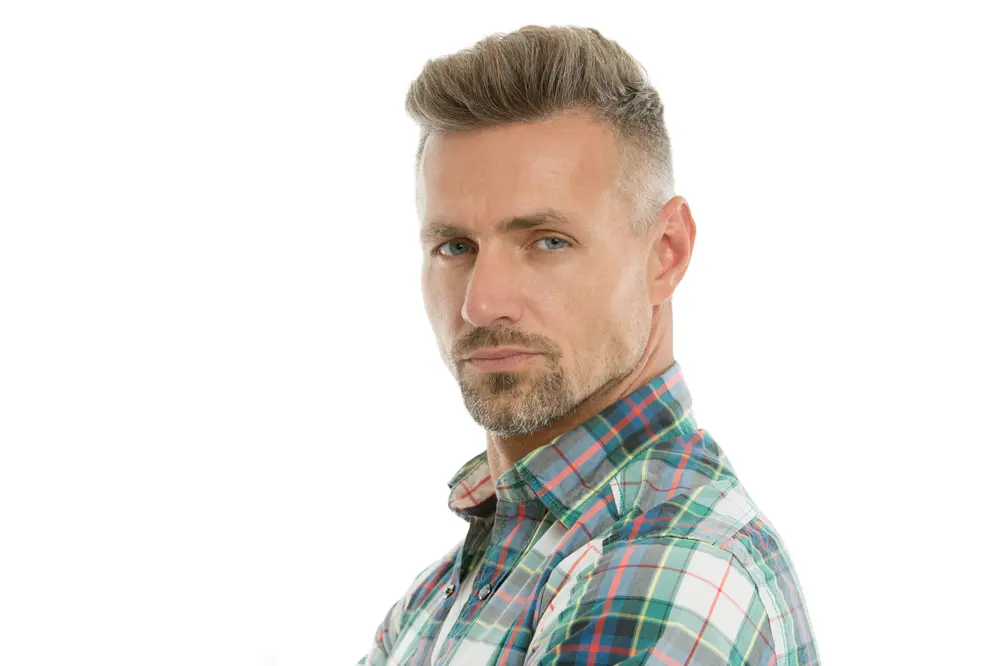 The slick-back look is a great choice if you want to look chic, and it can easily be maintained while wearing a hat. The most important parts of the slick-back hairstyle are to ensure the length is right to get the look you want and to use the right hair products to maintain the look throughout the day. With this look running your hands through your hair, and pushing it back, can fix any mishaps fairly easily.
Mullet
The mullet is back. Football players, musicians, and other celebrities have begun to embrace the mullet, providing them with a surprisingly complimentary look. So if you're ready to hop on the business in the front, party in the back train, ask a Therapy Hair Studio stylists for one of the following:
Mullet with fringe: To add a statement to your mullet (if you don't think the mullet is statement enough), add bangs.
Drop fade mullet: This style combines two popular hairstyles, resulting in an amazing look. The drop fade mullet provides length in the back and a tapered look in front by cutting drops in length down to your ear.
Short mullet: This style is easily maintained because the longest part of your hair will generally only be to your shoulders.
The French Crop
The French crop is a classic hairstyle for men who do not want one of the more high-maintenance hairstyles. This cut requires minimal daily styling and features a style similar to the men's fringe. The main difference is that while the top is longer, the bangs are not as prominent in the French crop as in the men's fringe hairstyles. This hairstyle is perfect for wearing a hat.
Side Part Hair Cut
The side part is a low-maintenance classic that allows you to incorporate sophistication and sleekness into your life. If you think this hairstyle will suit you ask one of our stylists for the following:
Classic side part: This side part has been sported by many celebrities, including David Beckham, and remains one of the most stylish options. You'll never look better leaving the top a little longer and shaping the sides.
Side part plus pompadour: This side part incorporates another popular haircut that leaves the top long and sweeps it away from the face. With this cut, with one brush of the hand, you'll look great after that winter hat comes off.
Side part plus quiff: This is perfect for men who want to keep the top longer while maintaining structure. This hairstyle allows you to gel your hair in place in the morning, keeping you ready for any event.
Simple Cut with Fade
Last but not least, one of the lowest-maintenance haircuts around. A simple cut on top to your desired length with the sides faded to your ears. This haircut will allow you to basically wake up and go.
Schedule an Appointment Today!
At Therapy Hair Studio, we provide various services in the Greater Houston area. Our aim is high fashion and quality. To schedule an appointment with one of our experienced stylists to get your winter hairstyle, call us at (713) 355-4247 or contact us online.