About Us
Dedicated to remaining one of the top hair salons in the Greater Houston area, we strive for excellence in everything we do at the Therapy Hair Studio. We have hand-selected a team of experienced stylists who never fail to consistently exceed their clients' expectations. When you visit our salon, you can always expect to receive the same thing: a superior cut and color from one of the best hair stylists in Houston.
David and Luis
Therapy owners David and Luis created Therapy with a vision of high fashion and quality. Each with his own rich background in the haircare and styling industry, both come together to offer excellent salon care for customers in the Houston area.
David Bamford is the Australian-born co-founder of Therapy Hair Studio, and he is dedicated to taking the salon to new heights of prestige—not just in Houston, but throughout the U.S. Thanks to David's insistence on quality, as well as his focus on cutting-edge stylistic techniques, the salon has been the recipient of many industry accolades and honors, including the Top Salon in Texas by InStyle's Beauty Black Book. David has worked side by side with some of the greatest hair stylists in the world, including Jose Eber and Kevin Murphy. Specifically, he was selected as one of four session masters worldwide for Kevin Murphy, an honor which allowed him to take part in the development of new looks and to influence the style industry on a global scale.
David has extensive experience styling for the film industry, evident in his work on several award-winning films and on national celebrities ranging from Farrah Fawcett and Jacklyn Smith to Oscar de la Renta and Mohammad-Ali. He is also a mainstay hairstylist for many designer photo shoots, including David Peck and Elaine Turner.
As a highly sought-after colorist and hair stylist on a national scale, Luis Perez continues to advance his industry in exciting new ways. Luis has trained under some of the biggest names in the industry, including legendary Beverly Hills colorist Jose Eber and Tova Day Spa owner, Tova Kindred. Adding to his array of valuable professional experiences, Luis underwent academic training in locations as diverse as Toronto, Paris, New York, London and Los Angeles. He received advanced training working for Tony & Guy, as well as advanced color technique training from the Kevin Murphy Academy. As a testament to his talent, Luis was recently asked to teach advanced color training for German-based hair product company Wella AG in Los Angeles.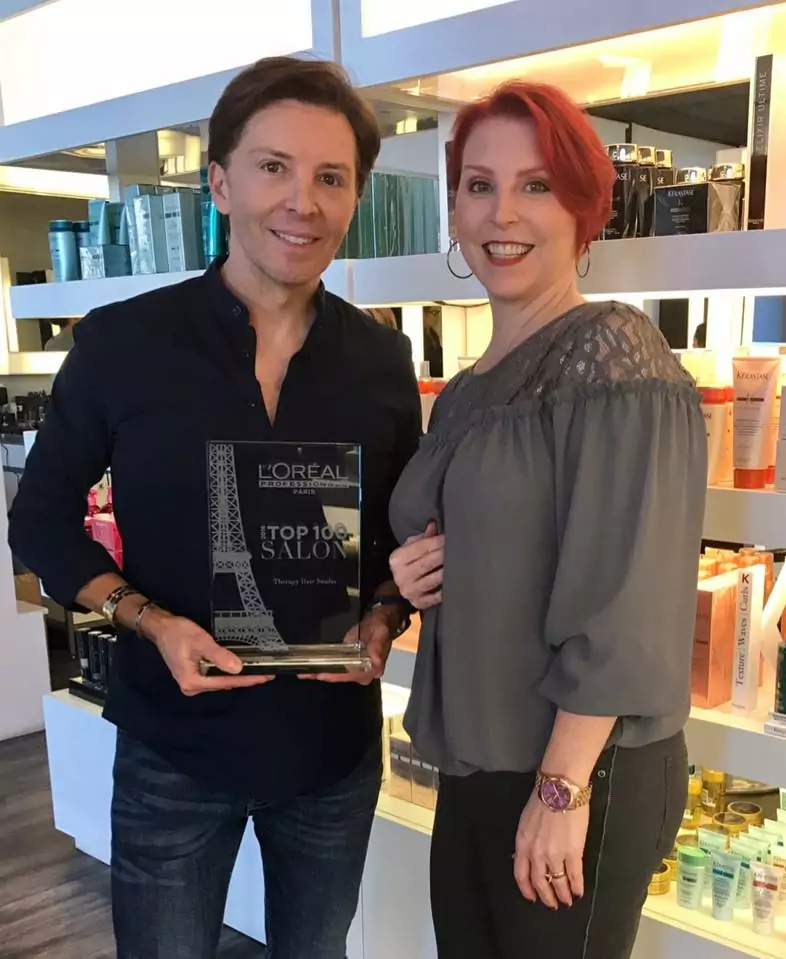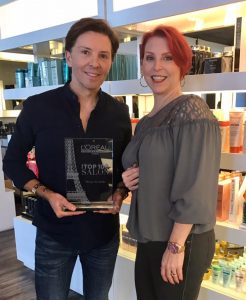 Our team is complemented by the carefully selected up-and-coming stylists that apprentice with David and Luis. Each of our Therapy stylists continues to hone their craft through ongoing training that David and Luis have dubbed Therapy University. This exclusive school incorporates inside educators as well as outside educators brought in to teach the latest trends. This ongoing training ensures that each stylist is highly skilled and shares our vision of high fashion and quality.  Therapy recently won a top 100 salons in America award from L'Oreal professional.
Our Products
Therapy Hair Studio provides the highest quality hair stylist products for purchase, carefully chosen as part of our unwavering commitment to our clients. Two exceptional product lines we offer are Kevin Murphy and Kerastase, selected specifically for their ability to help clients maintain salon-quality hair in the comfort of their homes.
Kerastase
Kerastase is an iconic brand that has been used since 1966 by top hair salons nationwide to enhance the natural beauty of customers' hair. Its unique, advanced formula offers immediate transformations and stunning results, making it the go-to brand for luxury hair care. Therapy Hair Studio is one of the few hair salons in Houston that is able to offer Kerastase's most exclusive treatment, Chronologist, along with customized treatments for every type of hair and scalp.
Kevin Murphy
Kevin Murphy is considered one of the world's leading editorial stylists and, true to fashion, he developed a line of hair care products that echoes his exceptional talent and delivers the styling results you desire. The contents of these products are unique, featuring wild-harvested, organic ingredients. The entire hair care line is Paraben and Sulphate-free, making this line a healthy, natural choice to complement your beauty regime.
Oribe Hair Care
Oribe Canales has worked as a renowned hairdresser for more than 25 years. He has worked extensively with supermodels and celebrities, including Jennifer Lopez. In 2008, along with Daniel Kaner and Tev Finger, he founded Oribe Hair Care. Oribe Hair Care's products are designed with high-end salons, runway models, and red carpet celebrities in mind. The products are thoroughly tested to ensure that they give lasting, stunning, and above all, beautiful results. Oribe's decades-long career in the beauty industry shows his dedication to looking beautiful, and it shines through in his products.
Shop AlumierMD
We're obsessed with AlumierMD and you will be too! Why? It takes skincare to a whole new level with its medical-grade, Clean Science approach. Not only does it tackle a variety of skin issues effectively, but it also ensures every product you get is the real deal, thanks to their anti-counterfeit tech. Schedule an appointment with Jahan to get a personalized recommendation on which product is best for you.
Image Skincare
Image Skincare creates some of the most advanced skincare products on the market. Their anti-aging and hydrating products use state of the art, evidence-based formulas that are effective and healthy. Their products do not contain parabens, which are preservatives associated with adverse side effects. At Therapy Hair Studio, we use Image Skincare products because they are safe, effective, and reliable.
Addiction Makeup
Addiction is Therapy Hair Studio's private makeup line. We call it Addiction because you need Therapy to fix it. Because of our involvement in the fashion industry, we wanted to be able to develop a line with the newest, freshest products that are trending. Trends change quickly, so we wanted to be able to create custom, small batch products that are always in season and don't miss the trends. Addiction Makeup products are hypoallergenic and most are paraben free.
Shu Uemura
Shu Uemura's beauty products have been highly respected for nearly 50 years. The products adhere to Mr. Shu Uemura's philosophy of strengthening the bond between art and beauty. Mr. Uemura worked as a makeup artist for films beginning in 1955 and opened beauty boutiques in some of the world's most beautiful cities. He strives to use his Japanese heritage as a lens that focuses on creating cosmetics that are as good for your skin as they are for the environment.
To discuss the haircare products that would best enhance the beauty of your hair, or to make an appointment with one of our skilled stylists, call the Therapy Hair Studio at 713.355.HAIR (4247) today.