Balayage vs. Traditional Hair Coloring
It might be challenging to decide between balayage and traditional hair coloring when it comes time to color your hair. Each technique is different and has its own benefits, so it's important to consider your desired look before choosing between them. This article will share what sets these services apart so you can pick the one that will get you the desired results. 
What Is Balayage?
Balayage is a specialized technique in which highlights are painted in a gentle, sweeping motion, delivering an impactful yet natural effect. Since the color is brushed onto the hair's surface, the result is a subtle, sun-kissed luster rather than the stark contrast of traditional highlights. Instead of bold stripes, picture gentle ribbons.
The subtle contrast between your base color and the lighter, balayage-highlighted sections of your hair is a hallmark of this technique. Because of how well it mixes with your natural color, balayage requires minimal effort in maintenance using the correct products and procedures.
What Is Traditional Hair Coloring?
With traditional hair coloring techniques like highlights, a stylist places foils over small sections of hair before applying bleach, leaving certain strands of hair lighter than the rest. This leaves a more pronounced and noticeable result, with the color shifting back and forth between the natural shade and highlights.
If you prefer subtle highlights, babylights might be the route of interest. This method of coloring hair is meant to look like the naturally multi-toned hair seen in young kids. Using babylights to frame your face can give off a subtle but noticeable shine.
Balayage vs.Traditional Hair Coloring: Key Differences
The primary distinctions between balayage and traditional hair coloring are as follows:
Boldness

: Balayage is a more understated technique for coloring hair that imitates a sun-kissed appearance. On the other hand, the contrast between the natural and bleached hair colors in classic highlights is significantly more pronounced, giving the style a bolder appearance.

Dimension: Balayage creates depth because the stylist paints on the bleach, varying the thickness and range of each stroke to create a unique, natural effect. When entire strands of hair are bleached completely, while other strands receive only a small bit or none, the final product has a range of tones that result in understated highlights. In contrast, the effect of traditional hair coloring is starker since individual sections of hair are either bleached in foils or left in their natural color.


Application Area:

When you get balayage done, your highlights go from the mid-shaft down to the tips of your hair. With traditional hair coloring, the strands are saturated in dye or bleach from the very base of the hair strand to its end.

Maintenance

: Because balayage is painted on, and does not begin at the root of the hair, it requires much less maintenance than traditional highlights. This technique creates a more subtle gradient effect, helping it to look more natural as the hair grows. On the other hand, the difference between the lighter color and the natural shade of your hair is more pronounced with highlights; thus, they need to be touched up more frequently to keep their effect and avoid deeper, contrasting roots.

Level of Customization:

The balayage method is highly adaptable, allowing stylists to highlight areas custom to the client, including natural framing of the face. In contrast, traditional highlights leave little room for creativity and can be more challenging to deliver natural-looking results. 
Balayage or Hair Coloring – Which is Best for Me?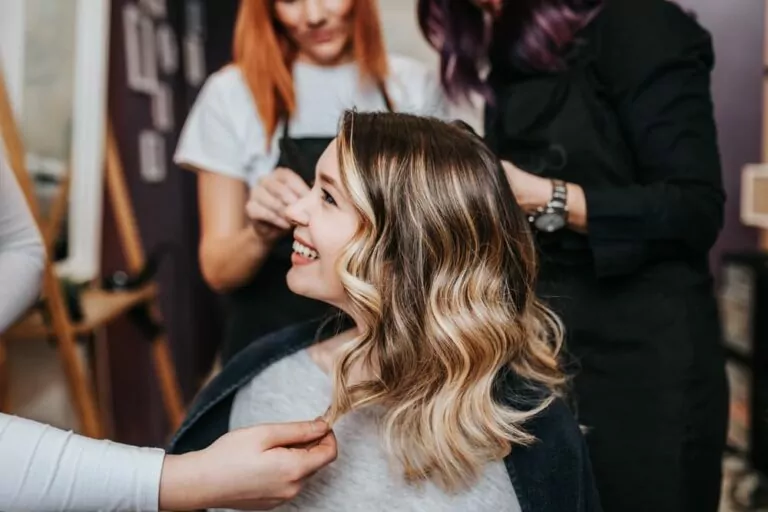 When you book your first visit with one of our many professional and expert stylists, you'll be able to talk about your dream results! Your stylist can walk you through your options while assessing your current hair.
Each technique yields a distinctive look, and the final decision is yours! Our team of specialists can help you make the most suitable decision for you. 
Are you ready for your hair makeover? Therapy Hair Salon's skilled coloring team is prepared to take your call. With our help, you can achieve the hair color you've always wanted. Contact us today!