Blowdry Bootcamp: perfect blowout and Child Advocates
Last month, Therapy held the Spring Blowdry Bootcamp to benefit Child Advocates, a Houston non-profit dedicated to representing and protecting children as they navigate through the foster care system in Harris county.  Child Advocates mobilizes court appointed volunteers to break the vicious cycle of child abuse.
Therapy hair stylists donated their time and expertise to teach the techniques needed to create the perfect salon blow out at home.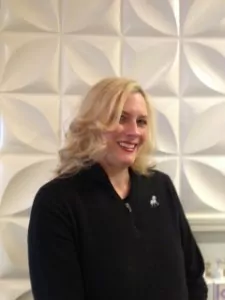 Clients were served the beverage of their choice while the Therapy stylist, aka drill sergeant, demonstrated how to perform the steps using the clients own blow dryer, brush and hair products.
Once instructed, the client took charge of the blow dryer and brush and began to practice the techniques under the watchful eye of the stylist.
This allowed the stylist to pass along the tips and tricks that they use every day enabling the client to achieve a blowout on their own tailored for their hair type and the style they want to achieve.
Together we raised almost $1000 for Child Advocates. We were thrilled to donate our time to this great cause.
We want to Thank each and every one of our bootcampers for making a difference in a child's life.
You can find out more about Child Advocates by visiting their website at https://www.childadvocates.org

Interested in participating in the next Blowdry Bootcamp? Send us an email and we will send you an invitation.