Karla Godinez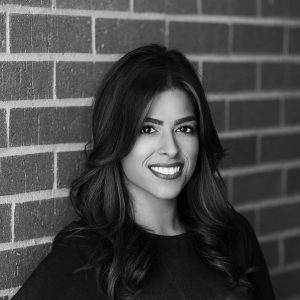 Native Houstonian Karla Godinez joined the team at Therapy Hair Studio in 2012 after finishing at The Paul Mitchell School of Houston, where she quickly gained an understanding of the core aspects of the trade. She left the school with an expert knowledge of Paul Mitchell techniques and was brought on as an apprentice to master colorist and Therapy co-founder Luis Perez. Karla says that working with a talent as inspirational as Luis has shown her how truly artistic color and style can be.
Color is Karla's specialty. She loves working with clients who have challenging color goals, such as going from very dark hair to a much lighter shade. Karla's passionate and picky clientele expect the best and Karla delivers. She is an expert at balayage and ombré techniques and she also enjoys doing cuts, Brazilian blowouts, and hair extensions. Karla masterful use of Hothead hair extensions goes beyond achieving a longer style. She uses extensions to address problems like alopecia or thinning hair knowing that with proper placement, skillfully done extensions can make the hair look natural and boost confidence. Her motto is, "if you can't achieve it, weave it!"
Because Karla sees ongoing education as a key to her success, she has continued learning throughout the years by taking classes across the country, including at the L'Oreal Professional Soho Academy in New York City. Karla is certified in Brazilian blowouts and balayage techniques, and also took the L'Oreal men's professional haircutting class in Santa Monica. She stays up to date on the latest trends in color, cuts, and style. Her dedication and passion to her craft keep her interested in new approaches to color and style.
"I believe that hair should always be sexy, versatile, silky and personalized for you! What I love most about my profession is seeing clients walk out the door feeling and looking their best!"