What Is the Best Age for My Daughter To Get Her Hair Colored?
As parents, watching your daughter grow from a little bundle of joy into a  fully-realized teenager is bittersweet. As they grow, they become more aware of their individuality and preferences. They may start exploring ways to express this new-found self, and in many cases this includes a desire to get their hair colored.
Whether they're inspired by a trend, a celebrity, or want to experiment with their own appearance, hair color can be a way for your daughter to feel unique and stylish. But, as parents, you may wonder, "what is the best age for my daughter to get her hair colored?"
While you may be concerned with the risks of allowing your daughter to chemically dye her hair, there are several options to sift through and consider.
The Risk of Chemical Damage
Damage to your daughter's hair may be one of your biggest concerns in allowing your daughter to dye her hair too early. Depending on the product used and the application method, damage to hair and scalp is a concern of many parents like you. In some cases, the chemicals in hair dye can also lead to scalp problems like dermatitis and eczema. If your daughter has a sensitive scalp, it's best to speak to a trained stylist to get a professional opinion. Here at Therapy Hair Studio, our team has the knowledge to help guide you and your daughter on the best, most healthy practices when considering hair color.

Another common concern is the inhalation of the toxic fumes that hair dyes can release. It's best to consult with a professional to determine the types of products required to deliver the desired effect. 
Temporary Hair Dye Alternatives
In today's market, we have an extensive collection of safe and risk-free alternatives to help young girls explore their personal styles.
One popular alternative is using a temporary hair dye. These products are much gentler on the hair and scalp and will gradually fade and wash out completely.
This is an excellent option for girls who want to experiment with different colors without the commitment of permanent hair color and the risk of chemical damage. Some professional salons may also offer this service, ensuring that your daughter receives the desired look, and as a parent, you can rest assured that no harmful effects will come as a result.
Opt for Non-Bleach Solutions for a Safer Experience
If you're open to allowing your daughter to try a new hair color but still want to minimize damage, you can opt for non-bleach solutions.
These products are much safer for your daughter's hair and scalp because they don't contain as many harsh chemicals as bleached-based hair dyes. It's important you find the right hair stylist that can help bring a colorful change to your daughter's life through a safe, damage-free option! 
Let Them Be Creative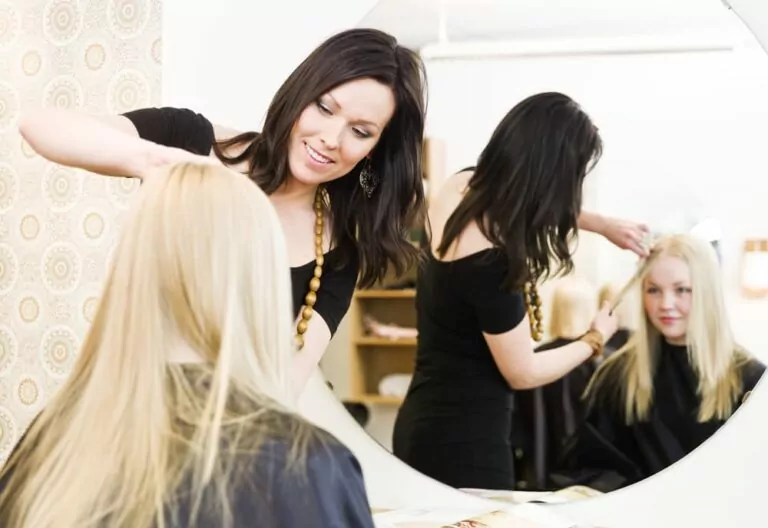 Their teenage years are their time to explore their individuality, develop their uniqueness, and explore their creativity. As a parent, it's our job to provide them with the guidance and support they need to grow into their own self.
If you're considering hair color for your daughter, have an open discussion with her first. Talk about the risks involved and what she can do to minimize potential damage. Once you've both come to an agreement, take the next step and speak to an expert. 
Get Expert Help
Worrying is second nature to parents. We only want what's best for our daughters, which sometimes means getting expert help.
Connecting with a professional hair stylist, can help you and your daughter learn about the options and processes of making her vision a reality. At Therapy Hair Studio, our team of expert stylists would love to help. We specialize in cuts, colors, extensions, aesthetics and more, and are dedicated to bringing smiles to everyone who visits us (including nervous moms!) Schedule your daughter a consultation today to learn more about the best options for her.