How To Style Your Makeup For Halloween Effects
For most people, Halloween is a much-anticipated day because they get to dress up in their favorite costumes. Whether you're going to a Halloween party or just want to look spooky for the holiday, you can use makeup to create different effects.
Here are some Halloween makeup ideas to try out:
1. Mad Scientist
The mad scientist look is perfect for anyone who wants to look spooky without being too scary. You can achieve this look with some simple Halloween makeup techniques.
First, start by creating a base for your mad scientist look with a foundation that is one or two shades lighter than your natural skin tone. Then, use a white eyeshadow to create a stark contrast around your eyes. For the finishing touches, add some false lashes and apply red lipstick.
If you want to achieve this look but aren't confident in your makeup skills, you can always enlist the help of professionals. At Therapy Hair Studio, we also offer makeup services for special occasions. Our makeup artists would be more than happy to help you create the perfect mad scientist look for Halloween!
2. Dead Barbie
Transform into Halloween icon barbie, with the captivating dead Barbie look. Using a white face base and heavy black kohl, create a doll-like appearance. For the lips, use bright pink lipstick, delivering that extra girly feel. Apply blush for some rosy cheeks, and don't forget to add some long lashes!
Let's not forget Barbie's classic hairstyle – flat, frizz-free, and fabulous. Straighten your hair yourself, or turn to a professional hair stylist to help deliver a hairstyle that will last day and night festivities. If you're interested in that classic Barbie straight and sleek look for an extended period, talk to our team about our Brazilian blowout treatments.
3. Black Swan
Achieving the look of Black Swan can be easier than you may think. To create the base, start by applying a white foundation all over your face. Next, use black gel eyeliner to line your eyes, extending the liner slightly beyond their outer corners. Use black pencil eyeliner to line your lower lash line and waterline. Smudge the liner for a smokier look. Apply two coats of black mascara to your top and bottom lashes for the finishing touch.
4. Mad Hatter
The Mad Hatter is a classic Halloween makeup look that is perfect for those who want to go for a more whimsical and fun feel. You will want to use bright and bold colors on your eyes, cheeks, and lips for this look.
To get the perfect Mad Hatter eyes, start by using a white base on your eyelids and then add brightly colored shadows in shades of blue, green, or purple. Add some black liner along your upper lash line and finish off with some false lashes or dramatic mascara.
Use a bright blush in a shade that compliments your eye makeup for your cheeks. Complete the look with bold red or purple lipstick!
5. Cracked Porcelain Doll
To get this look, prime your face and apply a white foundation all over. Once the foundation is applied, use a black pencil to line the perimeter of your mouth. Next, use red lipstick and fill in your lips. Add some fake blood around the outside of your mouth to complete the look.
The key to getting the desired Crackled Porcelain Doll effect is to avoid using too much makeup. Don't overdo the black pencil or red lipstick to create a realistic illusion of a cracked porcelain doll.
6. Glamorously Gore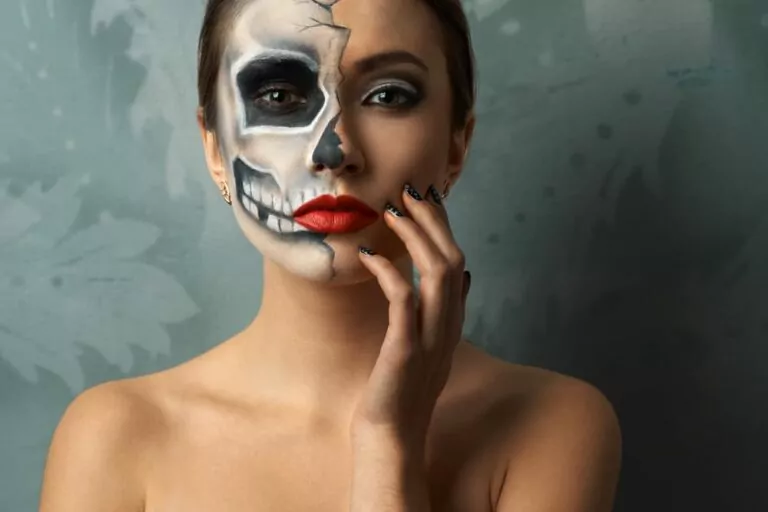 Looking to go glamorously gore? A good canvas can make all the difference in the world when it comes to makeup application. Facials and chemical peels can be an effective way to prepare your skin for the big night. Preparing your skin with the proper skin care and treatments can help create the perfect canvas for your Halloween makeup look. 
Therapy Hair Studio provides a wide range of professional hair and makeup services. Our highly skilled professionals are passionate about making our clients look and feel their best, including for exciting Halloween events. 
If you're looking to add some extra oomph to your costume this year, consider having us style your hair and makeup. Contact us today to speak to our team. Achieving the look you desire is a quick call away –  from porcelain and pretty to ghoulishly frightening, our team is here to help!