Seven Stunning Winter Hairstyles for a Wedding
Winter provides a unique and beautiful backdrop for a wedding. Fresh, falling snow pairs perfectly with a white wedding dress and faux fur coat. It also creates a cozy atmosphere for drinking winter-themed cocktails and warming up on the dance floor.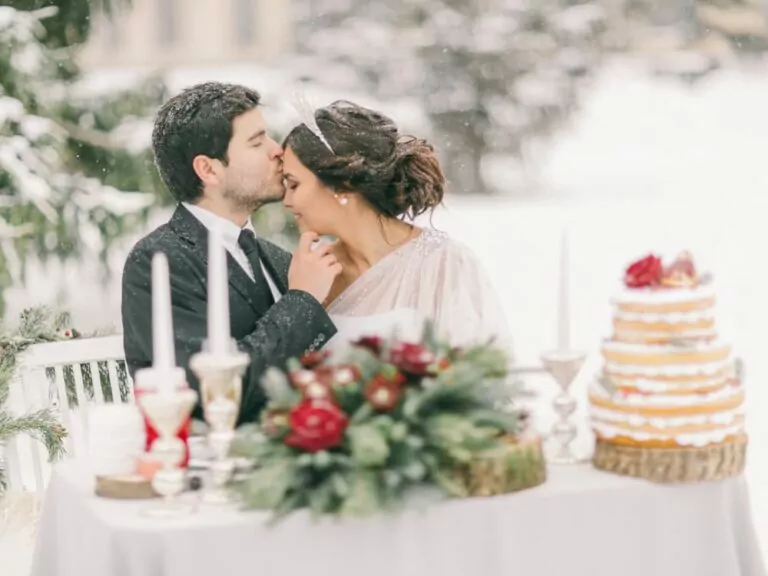 Picking a winter wedding date allows brides to choose from various hairstyles perfect for the winter ambiance of the occasion. The brisk winter months offer a unique opportunity to extend the life of a style. Cold weather doesn't flatten hair like hot and humid temperatures do.
Although you might be chilly walking from the vehicle to your venue, the weather can benefit your chosen hairstyle. The cool air can preserve your intricate and carefully executed hairdo. However, it also creates some challenges, especially if the weather changes without warning.
Picking a style suitable for unpredictable weather is crucial. You must prepare for anything to happen on your wedding day. You should select a style that can effortlessly withstand a sudden gust of wind or heavy snowfall and last until the end of the celebration.
Below are seven wedding hairstyles you could consider to look your best on your special day.
Braided Bun
You might already work a bun into your everyday life. It's simple and keeps your hair out of your face. You are the centerpiece during your wedding. It's unlike any other event you will attend throughout your life.
You can elevate your bun by adding an elegant braid. Ask your stylist to incorporate tiny braids that work their way across the crown of your head. Or you can get multiple larger braids twisted and turned to create a bun. The possibilities are endless.
Blowout
Opt for a blowout if you already have long hair and don't want to put it up on your wedding day. A blowout adds volume to any type of hair. If your hair is shorter, get extensions before the blow dry.
You can create some depth and texture by adding loose waves or curls after your blowout. Cold temperatures will set your locks and hold them in place throughout the festivities. You can enjoy your night of dancing and laughing without worrying about your style falling flat.
Crown of Curls
A crown of curls is a regal hairstyle for the bride wanting to be a princess on her wedding day. Your stylist can curl your hair and pin sections on top of your head. Embellishments, such as hairpins, ribbons, and flowers, can add to the sophisticated look.
You can have your curls bunched up in one area or spread out across your head like a tiara. Create a romantic look by allowing a couple of loose curls to hang down by your face, highlighting your makeup.
Polished Updo
An updo is beautiful and functional any day of the year. However, it's especially beneficial during the winter because you won't mess up your hair when you wear a coat.
You can choose from multiple types of updos depending on your style. Match your sophisticated dress with a chic and classic updo. If you want to highlight your non-traditional personality, ask your stylist for something unique instead of bridal. For extra hold and volume, add extensions to create a fuller look.
French Twist
A French twist is elegant in any season. It gives brides a refined look during a formal occasion. Include all your hair in the twist for a classy, clean style, or leave your bangs or some strands out to frame your face.
Deep Side Sweep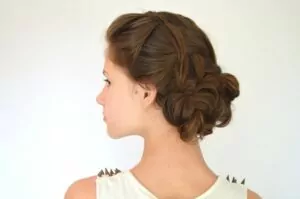 A low bun is an alternative to a classic bun on the top or back of the head. Your stylist can create a bun by the nape of your neck or push it to one side for a feminine look. Add sweeping layers or a side part for extra dimension.
Besides a low bun, a low ponytail enhances an otherwise sleek style. Ask for a pony with soft curls to drape your back or hang over one shoulder. You can add pearls, pins, or ribbons to match your dress for a personalized touch.
Natural Hair
Keep your hair down if you want to go natural on your wedding day. It's a low-stress option for the bride who doesn't like over-the-top hairstyles.
If your signature style is loose waves, your stylist can create a glossy texture and keep each strand in place with a shine-boosting hairspray. Instead of a veil, choose a headband or floral embellishment that won't hide your straight hair.
For an ultra-chic look, create tousled waves with a middle part. You can opt for a side part for a more dramatic style. Use accessories to dress up your hair without distracting from your desired natural look. Crystal hairpins, lace headpieces, and bridal hair combs are popular choices.
Get the Perfect Hairstyle for Your Winter Wedding
Everyone notices a bride's hair on her wedding day. It should look flawless and match her personality. Picking a style that holds up during inclement weather and transitions beautifully from the ceremony to the reception is vital.
Therapy Hair Studio offers wedding packages to help brides look and feel their best with traditional, unique, and memorable hair services. Call us at (713) 355-4247 for an appointment in Houston to discuss your upcoming winter wedding. Our team of stylists are ready to help.
Related Posts: