Barber vs. Hairstylist: How to Choose the Best Professional
People often wonder where they should go for haircuts and styling services. Choosing between a barber and a hairstylist can be confusing. You must understand the difference between these professionals before deciding where to book your appointment.
Typically, a barber's clientele consists of boys and men. They specialize in shorter haircuts instead of longer styles. Barbers primarily focus on cutting and shaving hair for a traditional look.
Hairstylists have extensive training in cutting all hair types and providing various styling and coloring services. Some also tend to cater more to women. However, most also cut men's hair.
The industry constantly changes and evolves. Barbershops used to be more suited to men only, while women frequented salons. Nowadays, barbers seem to practice their skills to include trendy styles and services for longer hair, while hairstylists are becoming proficient in providing classic haircuts for men.
Differences Between Barbers and Stylists
Consider your individual needs if you struggle to choose between a barber and a salon stylist. The professional you pick will depend on the type of cut, style, and other services you want.
Barbers
While a barber might seem like the appropriate choice for a man, barbering won't produce the desired results if their hair is long or has a fuller texture. Salon stylists have more training and experience in handling that type of hair.
Barbers offer classic, no-frills services. They won't curl, perm, or dye hair. They fade, blend, and shave to cut and style. Unlike many hairstylists, they're also experts in shaving with a straight razor.
Depending on their preferred cut, men and some women gravitate toward barbers to meet their needs. Scheduling an appointment with someone knowledgeable about men's hair also allows additional services such as lineups, mustache trims, and beard trims.
Hairstylists
Salon stylists provide clients with a range of styling options. They know how to use scissors to cut longer hair and add depth and texture.
However, they might not have experience using clippers or razors as barbers do. Stylists also offer different services, such as chemical treatments, coloring, and styles for special events.
Typically, additional services barbers offer end with shaves and trims. They're also not as knowledgeable about coloring hair or using specialized treatments.
Factors Involved in Picking the Right Professional
The professional you go to will depend on your needs. One isn't necessarily better or more qualified than the other. Barbers and hairstylists must complete a course or training program and hold a valid and current license.
You should consider various factors to determine whether a barber or salon stylist is better for you.
Pick a barber if you:
Want a simple cut and natural look without many styling products
Need a traditional, short style such as a fade, buzzcut, military-style cut, or flattop
Have a small budget
Need a haircut and shave or facial hair trim
Like maintaining your usual look without receiving feedback or recommendations
Pick a hairstylist if you:
Want to add highlights or full color to your hair
Have longer hair to cut and style
Need a product to manage frizz, flyaways, and other problems
Have questions about changing your cut and style to enhance your features
Want to update your look to more fashion-forward and current trends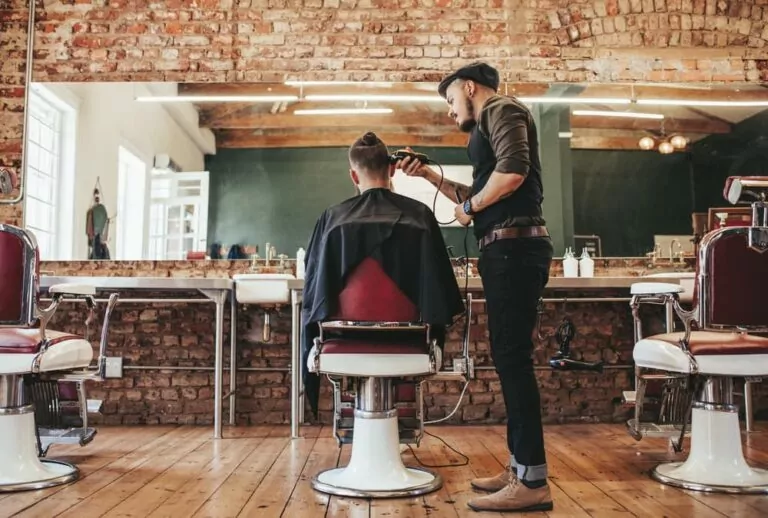 Keeping up with every stylist and barber's skill set is challenging. Not every professional fits into a single box. Some modern-day barbers have experience working with long hair and offer more services than barbers of the past. Many stylists have expanded their clientele and now include more services tailored to men who prefer a no-frills haircut.
If you're unsure who to see, browse their website for more information, read reviews, and ask for recommendations from friends and family. It comes down to selecting a professional who will best meet your needs.
Contact Therapy Hair Studio for Your Next Appointment
Choosing between a barber and a hairstylist is a personal choice. You should pick someone with the necessary experience to give you the cut or style you want. Men can go to salons, and women can go to barbers. It's no longer a gender-specific decision. Though we are a salon, Therapy Hair Studio's team of experienced stylists are proficient in both barbering and hairstyling.
Therapy Hair Studio has served Houston clients for over a decade. Our team can provide the services you need to restore your damaged hair and create a flawless look you will love. Think of us when it's time for a cut or style. You will leave our salon with healthy-looking hair and the necessary tools to maintain your hair until your next appointment.
Call us at (713) 355-4247 today or contact us online to schedule your appointment.
Related Posts: